I was able to dredge up two old photos of the Minx.  In one, we are towing it to get it running.  Perhaps the battery was low.  I forget.  It was a well used car!  The other photo shows me with my beloved Basset Hound, Finbar.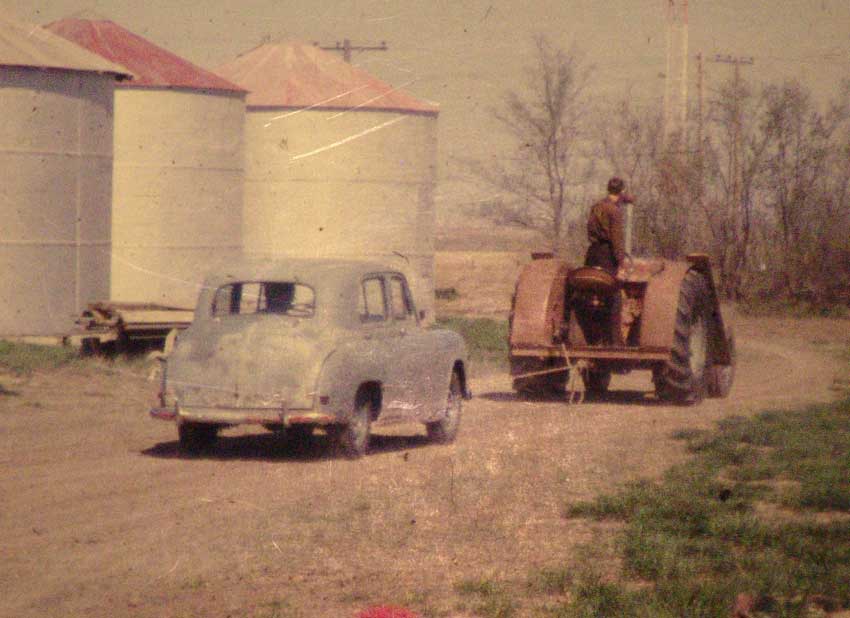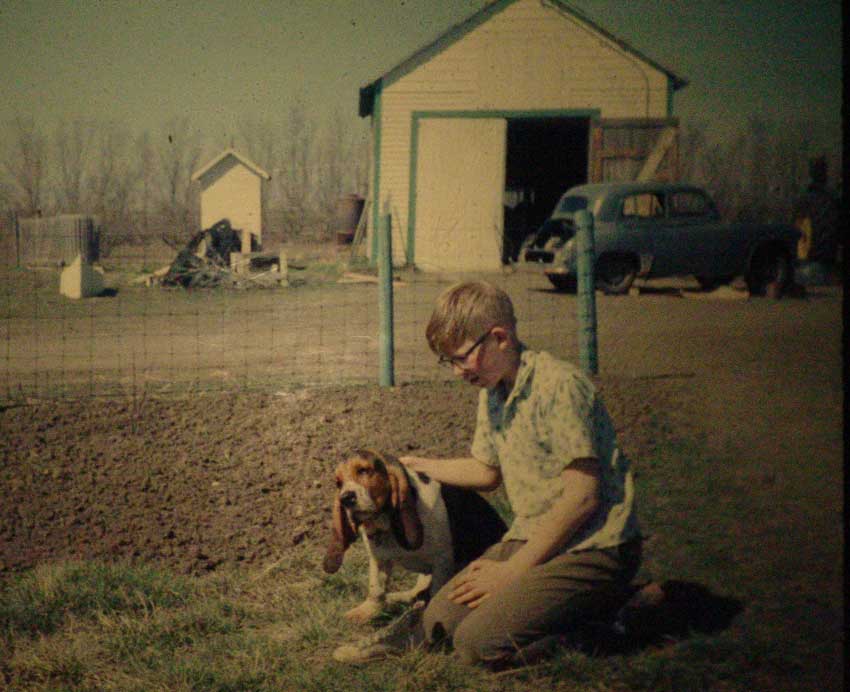 Again, forget the ratty looking little Minx and the nerdy kid – let's consider my video image of a D type Jaguar or a Ferrari flying around a race course with Stirling Moss or Von Trips at the wheel.  I went to great lengths to modify the column gear shift on the Minx to more closely copy the progressive floor shift of the D Jag.  The removal of the Minx trunk lid simulated the Wunibald Kamm aerodynamic effect used on many European racing cars.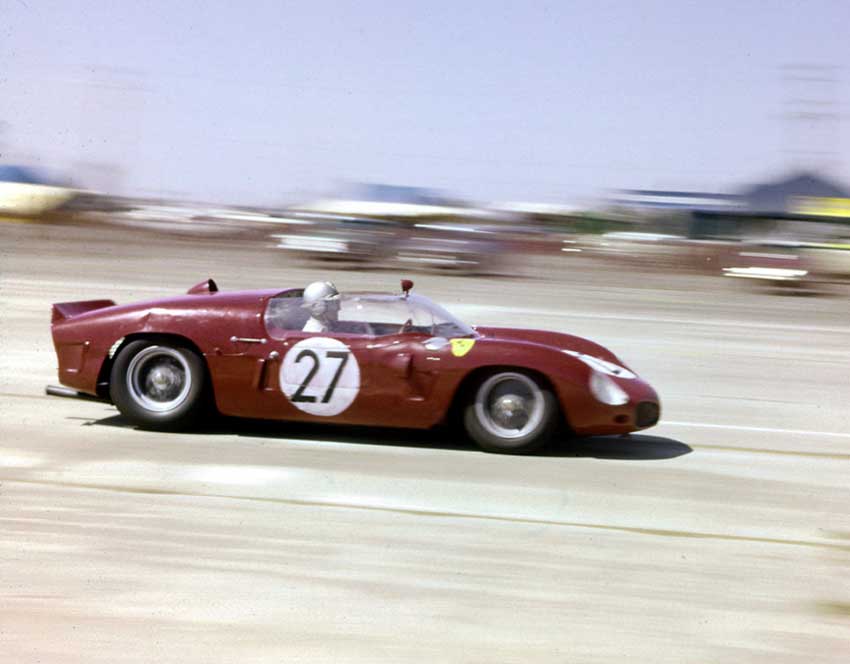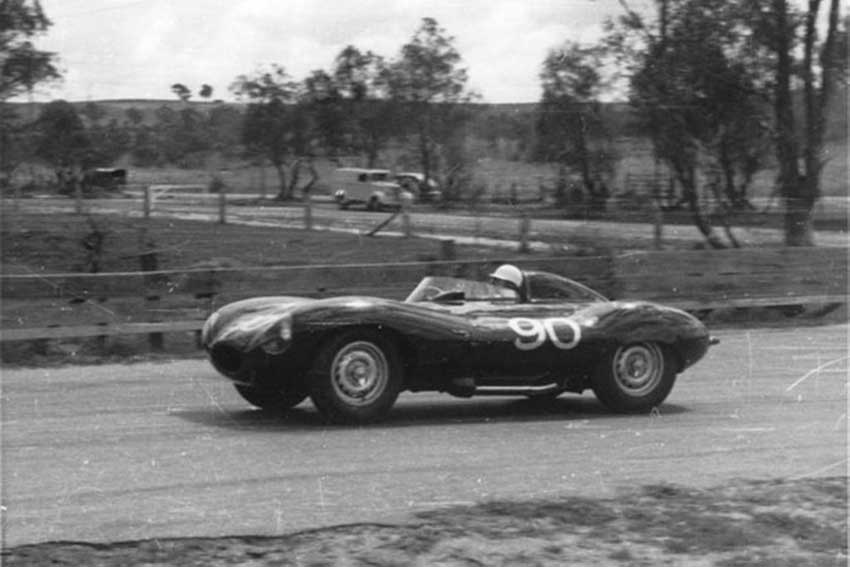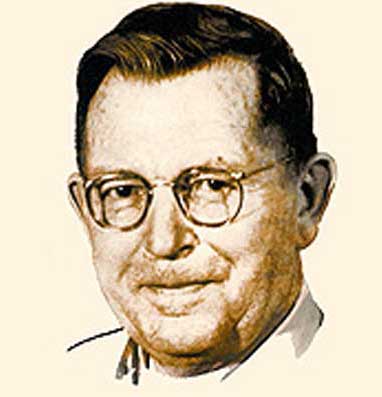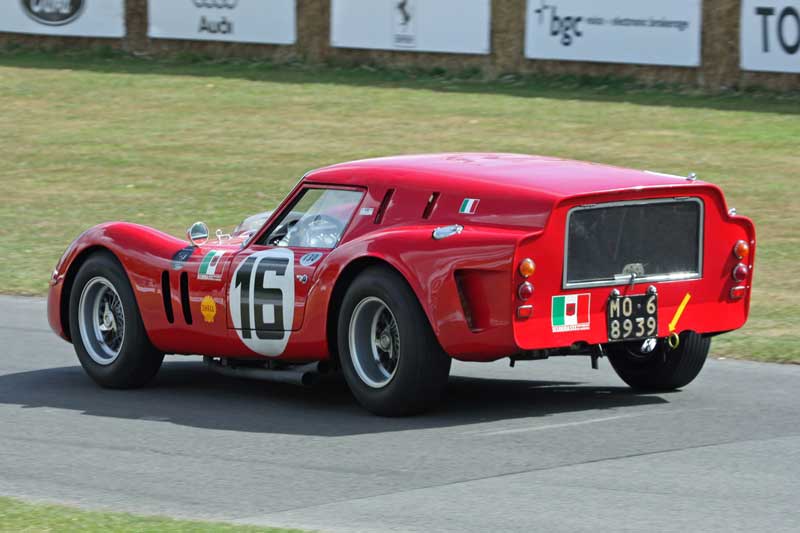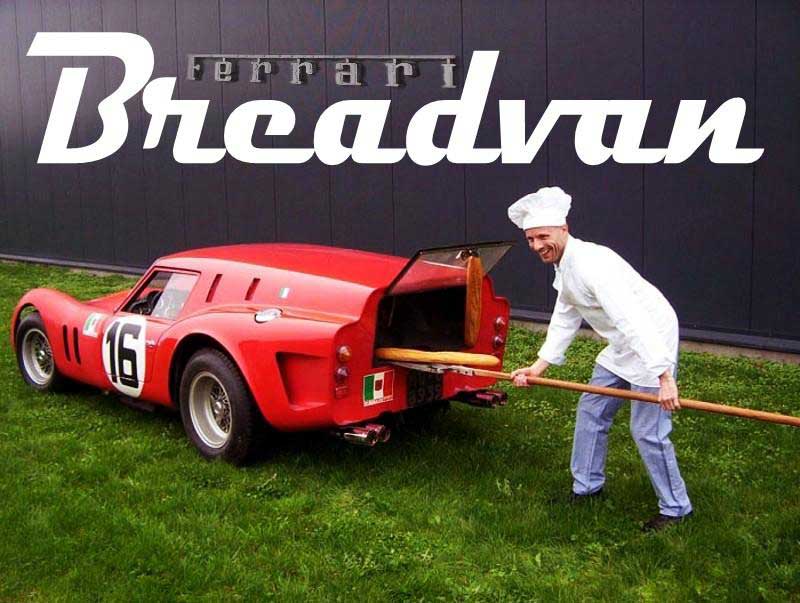 Some few develop an interest in auto racing and circumstances and temperament allow them to actually do something about it.  For me it was an irrational flight of fantacy but it was fun and it was motivating and it was educational.  How many sports enthusiasts are copies of little Geo?  But flights of fantasy are motivators and activity yields learning – so why get too uptight!  Flights of fantasy are often not a waste of time.

A parallel event to the Hillman Minx days was the Finbar experience.  Our family had a medical friend from Saskatoon who loved to visit the farm and he asked us if we would like a dog.  He knew another medical family who had a purebred basset hound that the father felt wasn't working out well in the city.  Finbar was a marvel in that he could follow your trail by scent.  I would run and hide and he could always eventually track me down.  He wasn't neutered and he frequently ran away to the local town which was only a mile away.  There were several mongrel basset hounds in that town that were likely Finbar's offspring.  Over 40 years later I happened to meet a man who I suspected, due to his last name, might have been Finbar's original young master.  I asked him if the name Finbar meant anything to him and we both were able to connect an event that figured in both our lives.  He was very young when his father informed him that Finbar had gone to live on a farm.

Finbar eventually was hit by a car on a hill right by our farm.  He was either coming or going on one of his romantic town runs.  Likely his mind wasn't on car traffic at the time!  I was 14ish and Finbar's death was a tragedy of my youth.  I remember thinking that I knew so many jerk humans and Finbar was such a great dog that it seemed unfair that he should get snuffed.  Interesting viewpoint.  Why did I think that way?  I also remember "Peter Rabbit" stories that my parents read to me where animals were given human characteristics and humans were cast as villains.  How is my video image doing vs reality??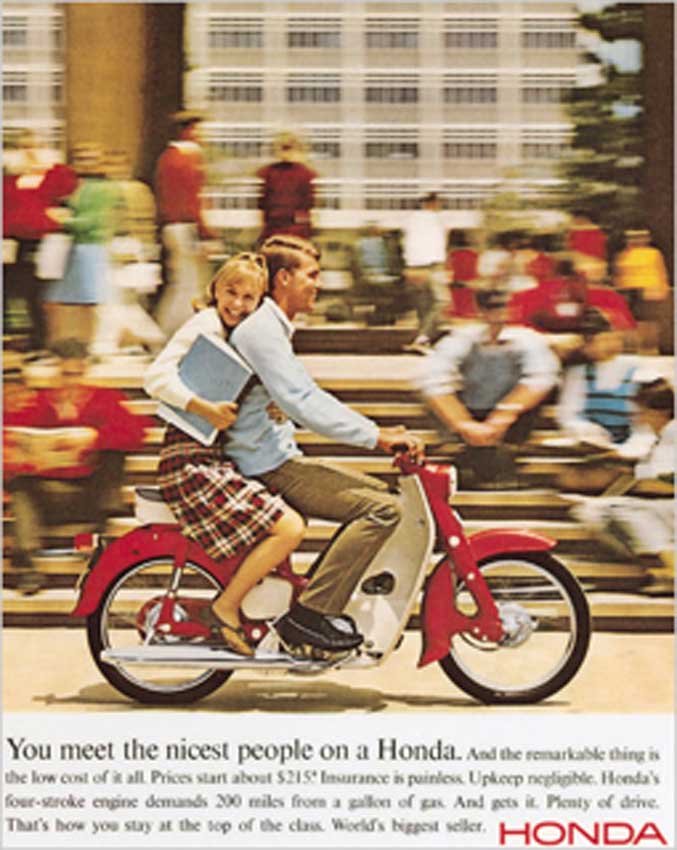 About this time my family took one of our somewhat regular camping trips to Banff and in Alberta you could ride motorcycles at 14 yrs.  I was impressed by the kids tearing around the streets of Banff on their scooters.  Then a friend whose father was a parts man in a farm equipment outlet and was savvy on many mechanical things, picked up a used Honda 50 motorbike, for his son.  The Honda 50 had been produced since 1958 and was associated, in North America, with the slogan "You meet the nicest people on a Honda".  Honda was taking the motorcycle world by storm and had won numerous races with drivers like Gary Hocking and Tom Phillis and Jim Redman.  It was a wave and I wanted to surf on the swell!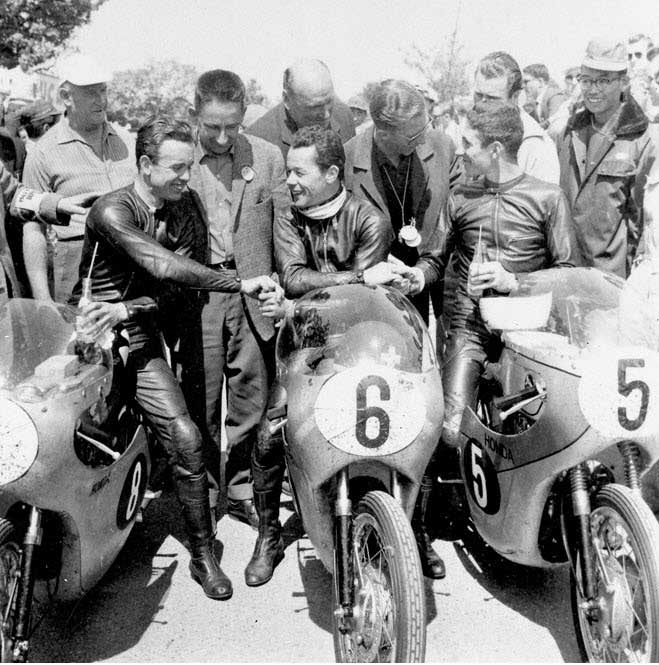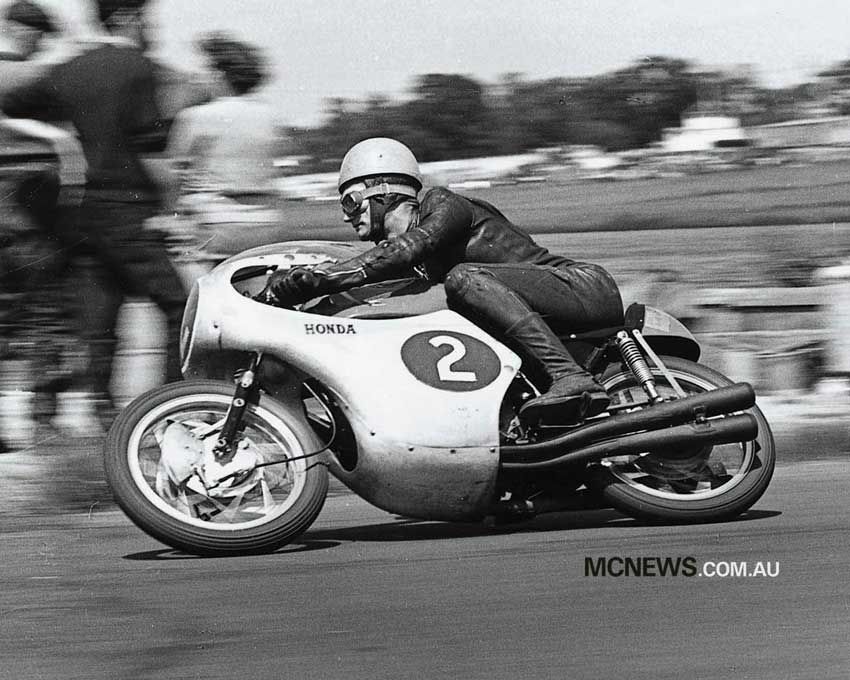 I had come to regard the Nicholson Brothers motorcycle shop in Saskatoon as a Mecca site during city visits and the Norton name was ingrained in my mind, but dollars and stories of reliability made me order a Honda 90 from Turple Brothers in Lethbridge.  I can still remember the instant when my mother drove me to the local CPR rail station on spec that the bike might have arrived and as we pulled into the parking lot I saw its front wheel emerge from a trailer van as the bike was unloaded on the dock.  I can also remember the contented sound and the exhaust smell as I started the bike up.  Bliss!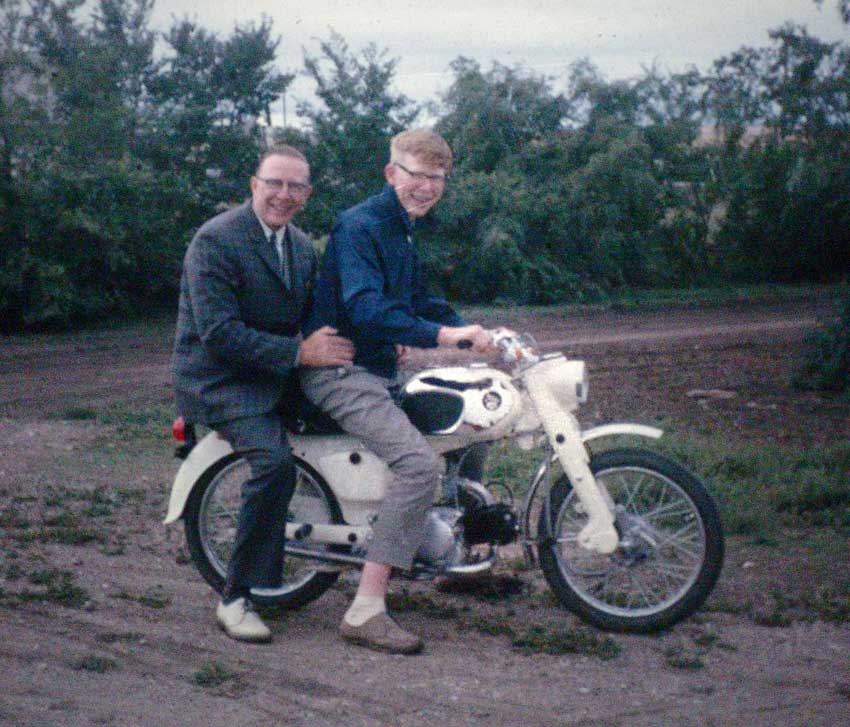 I sold the go-kart and the Hillman Minx.  Life now was bikes.  I wasn't able to legally drive but there was an excitement to cruising back roads with the Honda 90.  On one longer exploring tour I learned about the limitations of air-cooled engines and seized the bike's piston in the liner.  The bike recovered, as far as running went, but a frightful knock now marred the underlying quiet throb of the engine.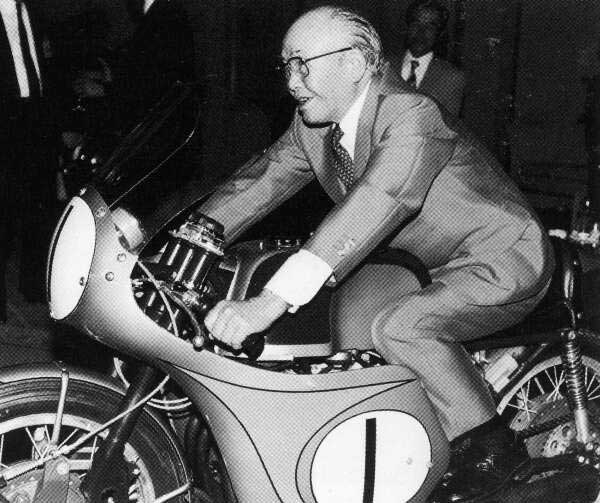 Truly, reality had knocked, and I now had to learn how to fix the bike.  It wasn't hard.  Soichiro Honda knew how to make practical products and I was introduced to repairing motorbikes.  I then worked on the Honda of another friend.  A further trip to Banff area illustrated the invasion of Japanese motorcycles into Canada and I had the bright idea that I should try to get a Honda dealership for my small rural town.  That wasn't hard, either.  $750 bought 3 bikes and set me up as a dealer.  The distributor in Vancouver never bothered to check to see how old I was and I became a Honda dealer before I could drive legally.  For two summers I sold motorcycles and then on the strength of that success I secured the Bombardier Skidoo franchise for Rosetown, my home town.  The snowmobile boom had started and I was able to sell all the Skidoos that I could get from the distributor.  Having the dealership was a cash dispenser.

Finbar, the Minx, and the farm workshop.

A Ferrari Testa Rosa flying at Sebring.

A  D-Jaguar - sleek and fast.  As I sat in my pudgy Hillman, in my mind, this was the car that surrounded me.

A Ferrari with a Kamm type rear end.

Wunibald Kamm was a german aerodynamics expert who discovered that you could chop off the rear of a car and not lose any air flow effeciency.

This particular Kamm Ferrari was the brunt of some joking.

Above:  Another internet item that brings back pleasant memories and even pleasant smells of fresh brochures.  When I sold Hondas, I handed out this brochure.

When a Honda team first showed up at the Isle of Man, they were inexperienced novices, but it didn't take long for them to learn and to return in dominating form.  Photos of these smooth and spartan bikes inspired my move into the motorcycle world.

The Isle of Man race course kills motorcycle drivers on a regular basis.  Jim Redman survived and retired.  Tom Phillis wasn't as fortunate.  But my infatuation with bikes had a close link to photos such as this one of Redman.

My first motorcycle.  I eventually owned about 14 personal motorcycles.

Soichiro Honda was a brilliant man and his design signature shows up in anything with the Honda name.  I have owned many Honda motorcyles, a Honda car, a Honda rototiller, a Honda snow blower, three Honda lawn mowers, two Honda powered air compressors, a Honda water pump, a Honda trash pump, two Honda whipper snippers, and five Honda generators.  The spirit of Soichiro Honda is evident in them all.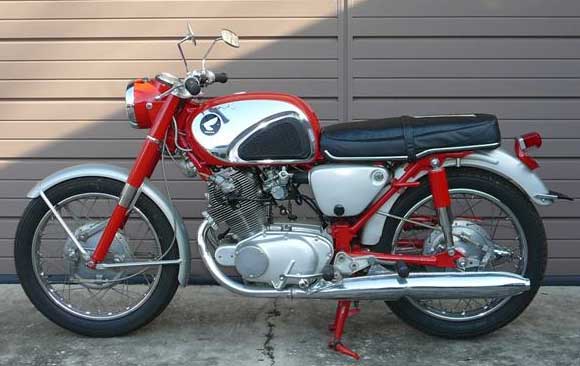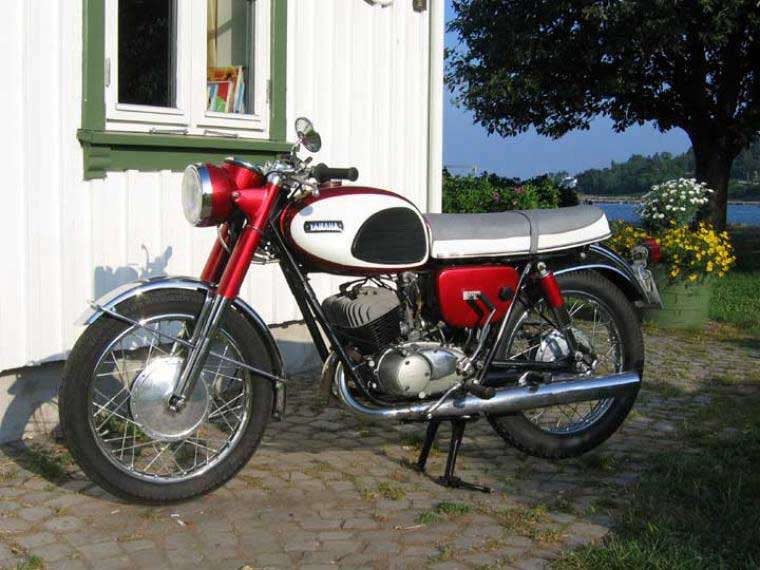 When I sold Hondas, a 305cc twin was the largest bike that they made.  The CB77, just like this one, was one of my favourite bikes.  As with many other events of the period it is easy to remember the moment I completed unpacking and assembling my first CB77, straddled the beast, turned the starter key, and heard it fire up.  I could return to our old farm and show you the exact spot where that bike stood and the direction it was pointing when I first started it.

I initially purchased my Hondas from Fred Deeley Ltd in Vancouver but Deeley lost the distributorship to Saskatchewan to a Winnipeg dealer.  Deeley started to distribute Yamaha bikes and I switched brands in order to stay with him. 

When I was about 15 years old, in 1964, a Shell Oil car rally passed through my home town of Rosetown.  I knew that Pedro Rodriguez would be stopping for a pit stop at a Shell station not far from my highschool.  I skipped classes, was there when Rodriguez pulled in, and I got his autograph on a photo of himself driving a Ferrari.  Rodriguez didn't say anything, gave me a suspicious look, and signed the picture.  Perhaps he was amazed that anyone in a place like Rosetown would even know who he was.  Pedro's talented brother, Ricardo, had been killed prior to the Mexican Grand Prix in the fall of 1962, driving a Lotus which had suspension failure.  Pedro had won a major auto race at Daytona in 1963 and had raced at Le Mans each year since he was 18.  He won Le Mans in 1968 but was killed in a racing crash in Germany in the summer of 1971.  The crash was due to an error on the part of another driver but Pedro was gone at age 31.

Stirling Moss, one of the most famous drivers during the 50s, crashed in 1962, the same year Ricardo was killed.  Moss was driving a Lotus which likely had a mechanical failure.  Moss was in a coma for a month and for six months his left side was partially paralysed.  Moss was 32 and I have observed several top level racing drivers being killed close to that age.  These events likely ate into my mind to a degree!  Jim Hall, pictured earlier, had a bad crash at age 35, counted 22 reasonably close racing friends who had been killed, and retired from driving.

The income from the motorcycle business allowed me to get a modest sports car, an Austin Healy Sprite.  And with the move into snowmobiles I had an opportunity to design and build and race.

As a grade 12 school shop project I made a disk brake for a Skidoo, polished the ports on its engine, fitted an open exhaust, and laid the motor on its side to drop the center of gravity of the machine.  The town held a snowmobile race that year and I was able to win it without difficulty despite being up against drivers with far more experience and supposedly superior machines.  The speed of the machines was not great.  It was really amateur racing but in my small world, it was dramatic.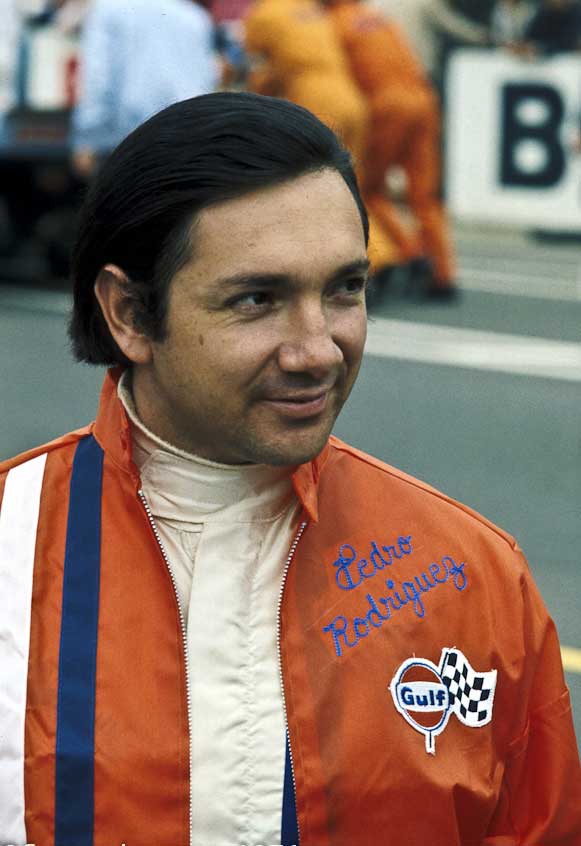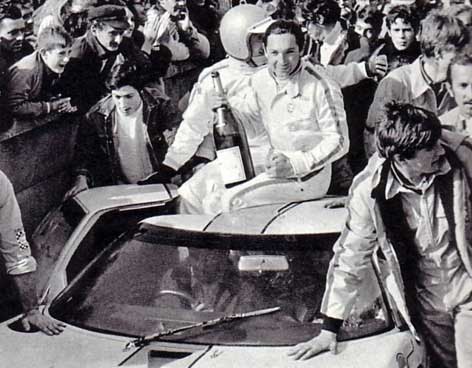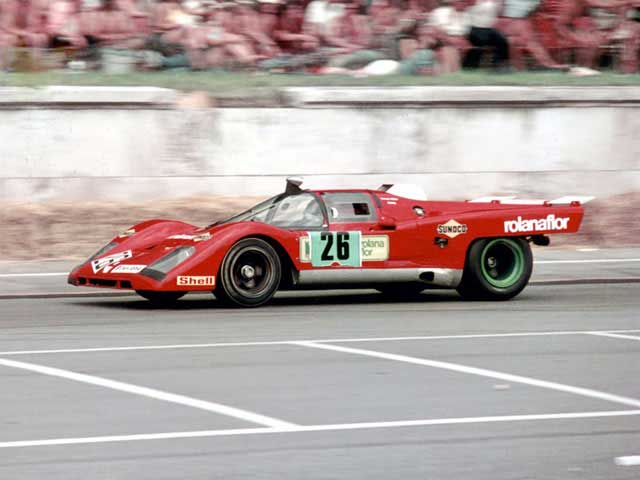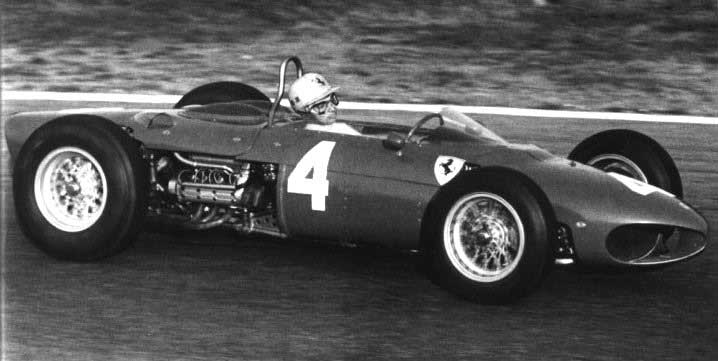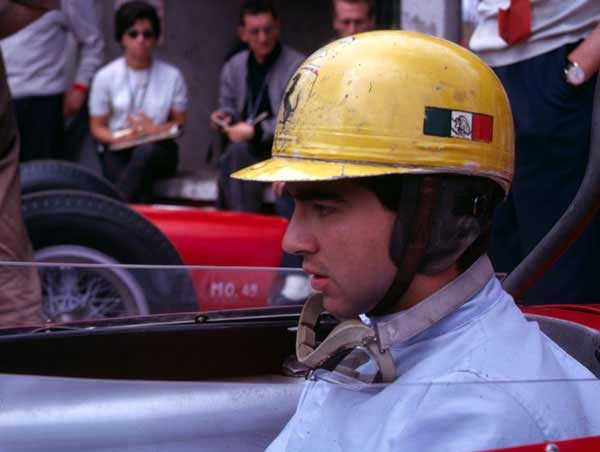 I met Rodreguez, sort of.  I talked to him but apart from giving me his autograph, he didn't offer any response.  Perhaps he only spoke Spanish!

I believe this shot of #26 was just prior to Rodriguez crashing and dying as a result.  The error of another driver put him into a barricade.

And I believe this is a shot of the fatal crash.  Bang.  All over.  Sad.

Ricardo, Pedro's younger brother, was a rising star but died during practice at the Mexican Grand Prix due to suspension failure on his Lotus.  Colin Chapman, the designer of the Lotus cars, was criticized for opting for light weight ahead of driver safety.

Here is Ricardo Rodriguez driving a Ferrari.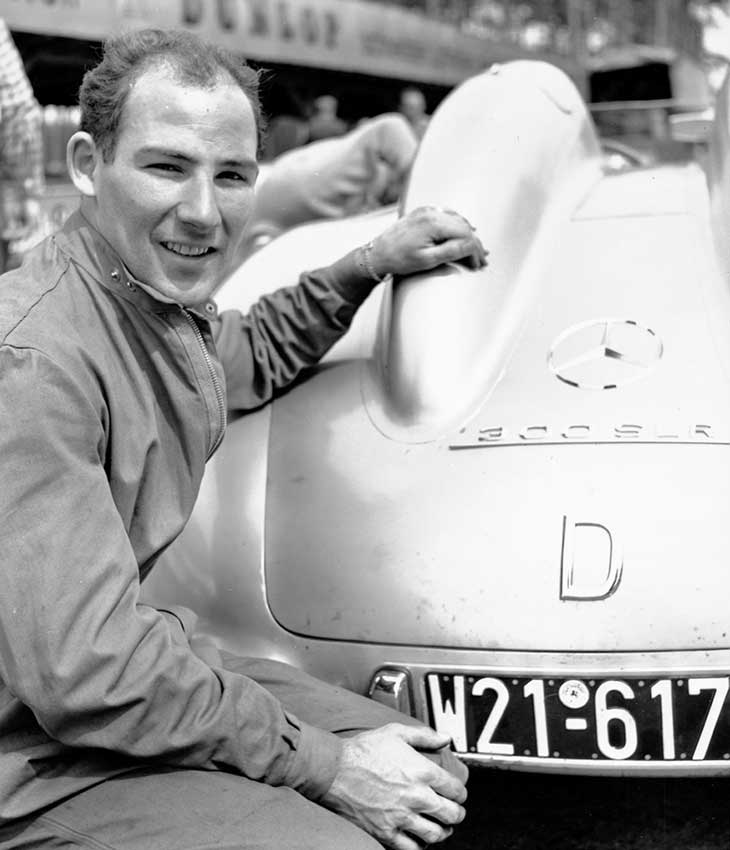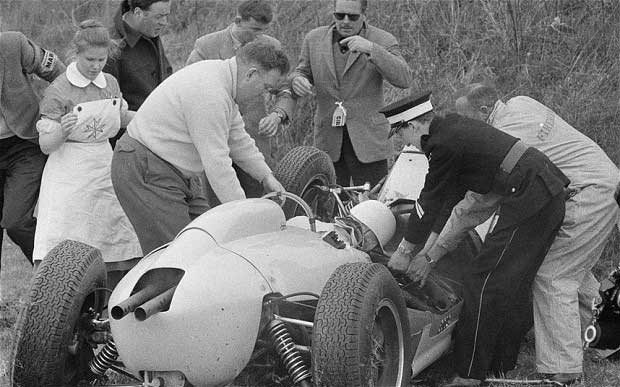 The photo above shows Moss and the photo below is likely a photo of the accident that ended Moss's competative driving career in 1962.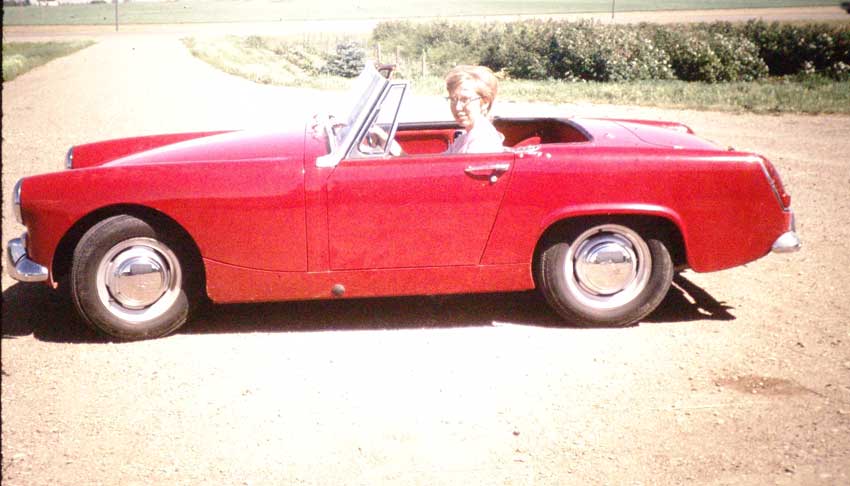 My sister wheeling the Austin Healey Sprite that I purchased with profits from my motorcycle sales business.  The Austin Healey was purchased new.  Quite a few years later I purchased the Triumph Spitfire mentioned earlier in my story.  It was a used car.  I liked the Austin far better.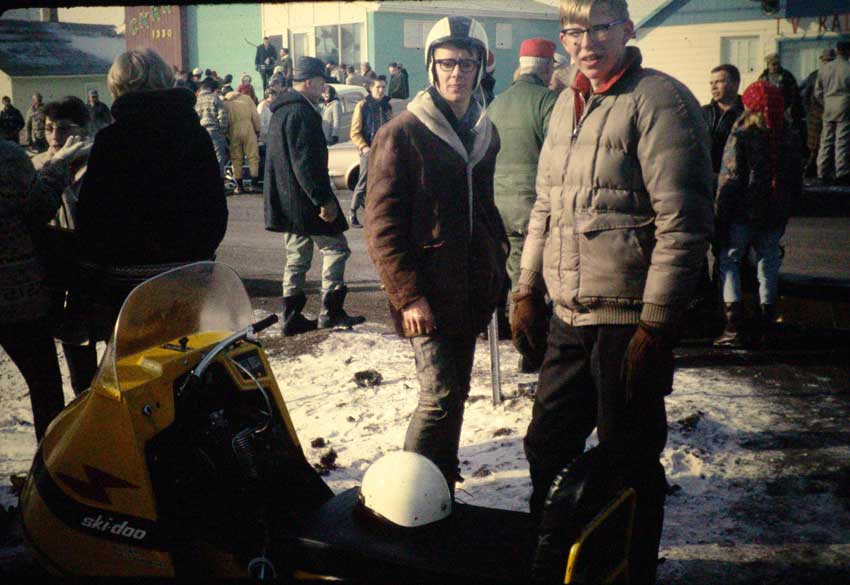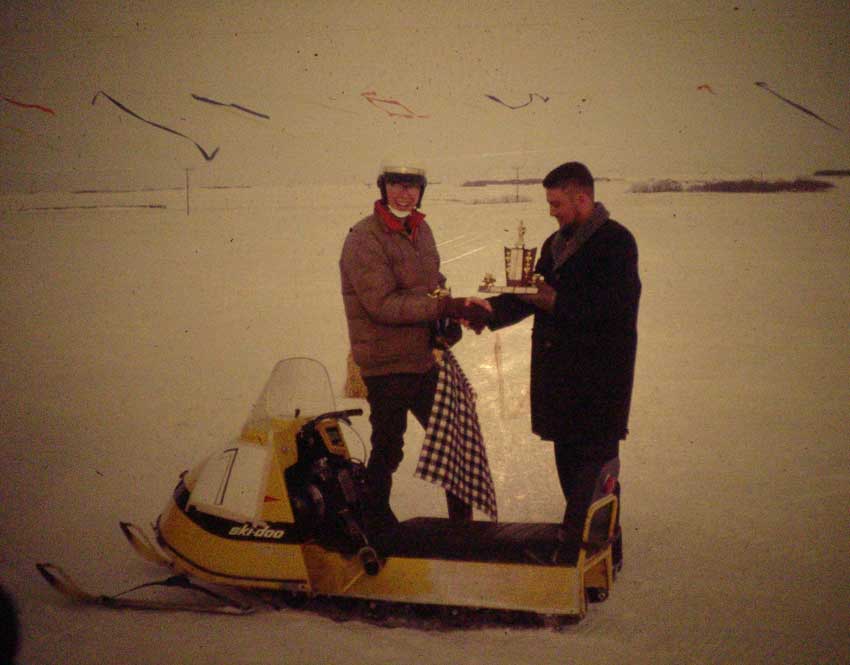 I finished Grade 12 in the spring and planned to get into snowmobile racing more seriously the next winter.  I secured a twin cylinder 494cc engine and installed it in a Skidoo.  I had an article on snowmobile transmissions published in a fledgling snowmobile magazine in May of 1968.  Life seemed to be rolling along nicely.  I felt like a winner.

I entered a large local race in the town of Humbolt in the spring of 1968.  I expected a fairly tight race course with a lot of cornering but my youth and inexperience showed up.  I should have done my homework better.  The course was cross country and high speed.  I had not expected that and my machine was set up to corner well but high speed stability had not been a consideration.  There were two other 494cc Skidoos at the race as well as two factory 600cc models that were a complete surprise.  I was rattled at all the unexpected twists and in the big race I got stuck on a small hill where I got slowed by traffic.  I was not doing well and slacked off as I approached the finish only to be passed at the last moment by a slower machine.  It was a depressing and embarrassing day.  The speeds needed to win were not in line with my mental wiring.  I felt the danger level was simply too high.  And that was the end of my racing flight of fantasy!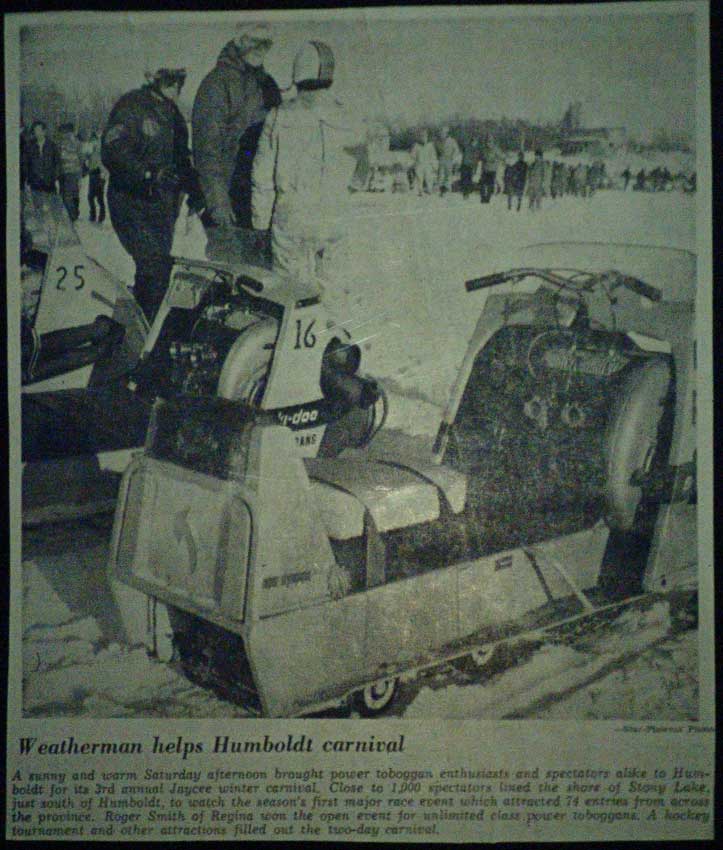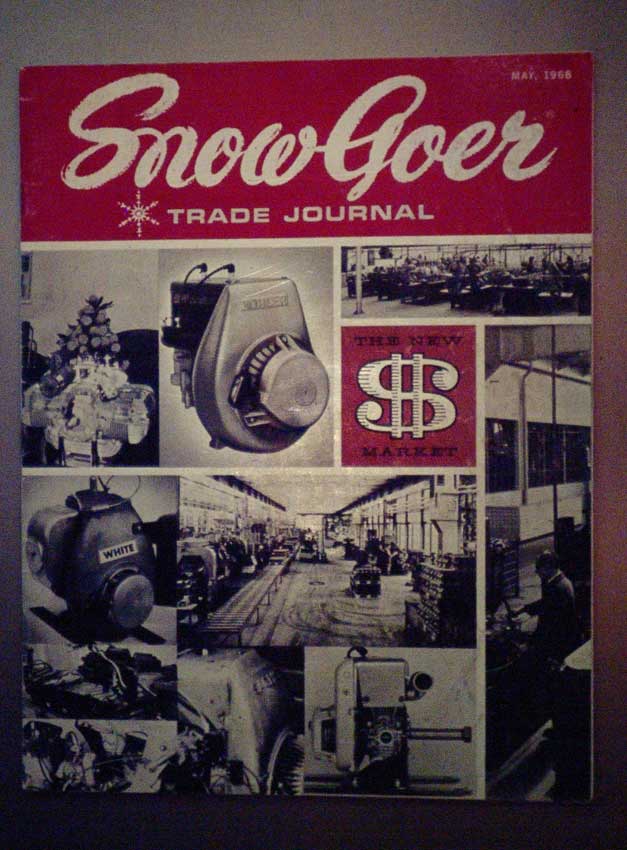 I quickly realized as well that my technical article on snowmobile transmissions was seriously faulted and that I really didn't know what I was talking about.  I was never criticized on the topic.  Likely, anyone who knew much about transmissions realized that the article was a laugh and simply ignored it.

I eventually realized too, that my infatuation with Formula 1 racing was built on static photos on magazine pages.  I had seen little video footage and once I realized the speed and risk of Formula 1, and had seen numerous heroes killed or injured in frequent crashes, my views on the activity shifted.

I was not suited to the world of racing.  It was simple as that.  But the world of racing is still interesting.  Speed, sound, advanced engineering, competition, brave heroes, beautiful women, dollars, travel, fame, danger, risk, and short life spans.  It is a high intensity world.  It is crammed with fast and intense lessons.  It is life being played at high speed – exciting and costly for those involved.  And a distilled education for those observing!  The wise learn from their own lives - the wiser also learn from the lives of others.

Another useful personal automotive event occurred in the summer of 1967.  I had seen a demolition derby in a nearby town and was impressed.  I felt that 1958 Chev cars were sturdy and well suited for these battles.  I went to great lengths to find a cheap 58 Chev and laid into preparing it.  This was right when farm work was urgent and my Father was not impressed with my use of time when he needed farm assistance.  But I was on a mission.  A derby was scheduled for my home town and I was out to glory in a win.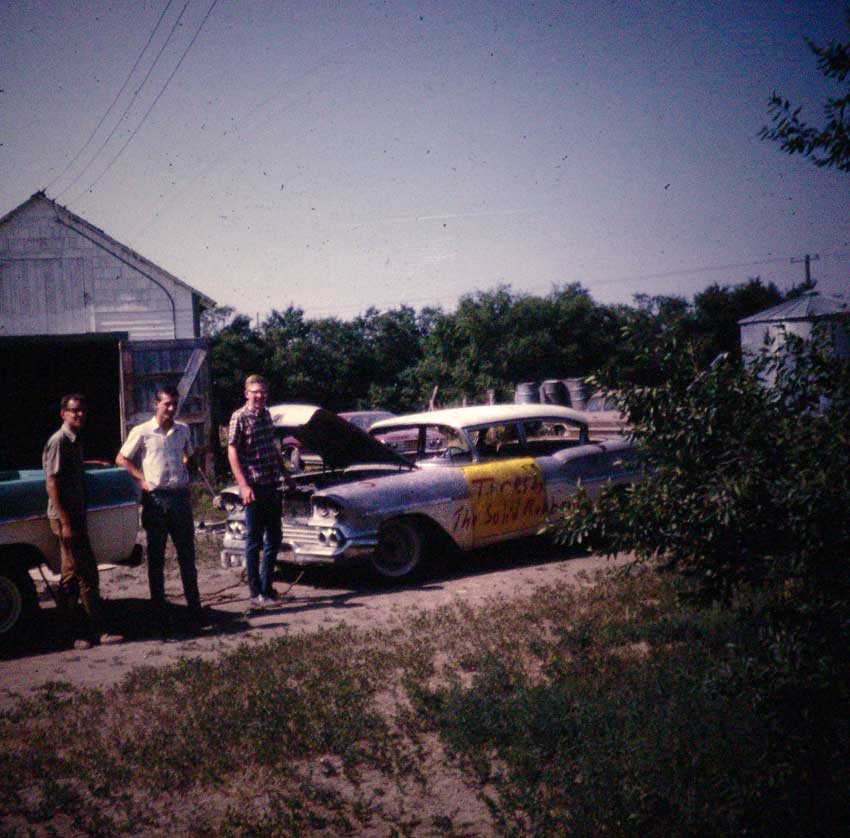 The day came and I was prepared.  I was impressed by the sensation of getting rammed in the side and feeling my helmet distort when my head hit the door of the car.  It was great excitement.  I was about to make a rearward rush at another car.  I looked at the ref who was closest to me, saw that his flag was in go position, and I then turned my head and hit the throttle for the destructive rush.  I am not sure if the ref was slow or I wasn't attentive enough, but by the time I hit the victim, play had been stopped, and I was disqualified.  The carefully prepared car was never really put to the test.  For various reasons I had a low level of respect for the driver I illegally rammed which made the incident even more humiliating. That was not a happy day.

The 58 Chev was stored in the back end of our farm yard and remained there for years, likely until the property was sold.  It had not been an encouraging adventure.  But the cost in time and dollars, the lead up friction, and the embarrassing end result, made the experience memorable!

Life went on!  And lessons were tucked away and would yield benefits for years to come.

A Saskatoon newspaper had a photo of my 494cc Skidoo at the Humbolt race.

Snowmobiles were new in 1968 and this trade journal published an article I had submitted.  Clearly, their technical evaluators were not very skilled or they would have realized that the ideas were not workable!